We highly recommend our customers to make all their changes through a child theme.
If you never heard about a WordPress child theme, we would highly recommend you a quick look on this page.
Why would you need a child theme?
Here are the main reasons why using a child theme could benefit your project:
Ability to change any WordPress template defined by Woffice: You can copy any template from the parent theme to the child theme to make any change you would like.See: https://developer.wordpress.org/themes/basics/template-hierarchy/
Ability to change most Woffice PHP functions: Woffice functions are wrapped under a statement:
if(!function_exists('<name>')):
So you can override them from your child theme.
Ability to add custom hooks / filters to change WordPress and Woffice behaviors, here some useful links:
Ability to apply custom organized CSS. Using the child theme's style.css file.
Ability to apply custom language files. Using the languages/ directory.
How to install the Woffice child theme
The Woffice child theme is already built by our team and ready to be used on your side.
Here are the steps to follow:
Open Woffice-Intranet.zip, which is the main package you get from Themeforest.
Find woffice-child-theme.zip, which should be in the main root.
Upload in WordPress (Appearance > Themes > New > Upload) or by FTP.
Activate it.
When you go back to the Themes page and click on the Child theme's "Theme details" button, you should see: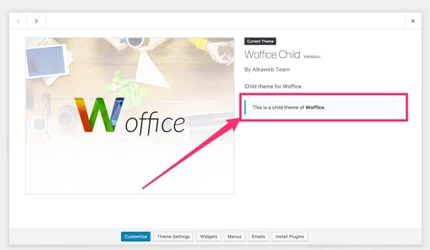 Make it yours!
You can edit all the child theme's details by editing the woffice-child/style.css's header. Like author team, image, copyright and so on. It can be very useful if you leave the theme to a customer and want to add some value to your work easily. Your integration would look more professional.