Woffice allows to edit many elements from the front-end, these are: blog posts, wiki articles, projects and directory elements.
In the Permissions tab, the options are organized by groups: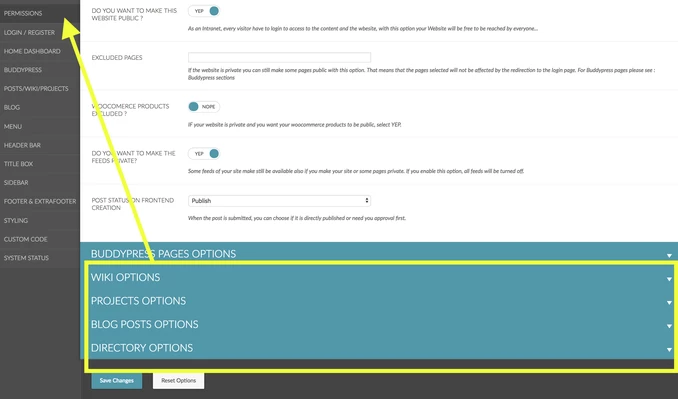 In each group you can find an option like this:

All roles selected here will be able to edit that post type by front end. A button will be created on each element's page.
NOTES:
This option affects only the front-end, in the back-end, the users continue to use the default capabilities of WordPress, assigned by default to each role.
The administrator users and the author of each element are always able to edit elements from the front-end, it doesn't matter what you set in the options.
Restrict the editing permission
Once you have chosen the roles that can edit the post types by front end, you can still add another restriction level for certain psot types. For instance, if you want the Editors to be able to edit all the wiki articles, you can achieve it with the option above. However, if you want specific articles to only be restricted for Administrators and their own authors, then you can edit the article from the WordPress Panel (referred as back-end), and scroll until you spot the option below.